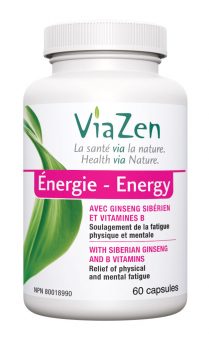 Infos
Understanding
References
Infos
Viazen Energy, a powerful synergy of natural active medicinal ingredients
The specific constituents of Viazen Energy are the key of the effectiveness of this SUPERIOR FORMULA.
Who needs Viazen Energy?
Viazen Energy was especially developed for women and men who show tiredness or a general fatigue, caused by a professional overwork, by an intensive sport training or following a surgery, a chronic disease and in presence of repetitive infections.
Viazen Energy Presentation
ViaZen Energy offers an efficient « TONIC » solution to improve mental and physical performances. Lack of energy appears when the body is unable to provide an appropriate energy level in response to its needs.
ACTIVE INGREDIENTS

THERAPEUTIC PROPERTIES

Siberian ginseng Root
(Eleutherococcus senticosus)
Extract (20:1) equivalent to 6000 mg of crude material
300 mg/day*

– Tonic
– Adaptogen

L-Tyrosine
500 mg/day*

– Nervous system balance
– Thyroid balance

Chromium
Chromic HVP1 chelate
400 mcg/day*

— Glucose balance
– Lipids and proteins synthesis

Vitamines B
B1, B2, B3, B5
80 mg/day*

– Energy production

– Nervous system support
1 HVP : hydrolysed vegetal protein
* Daily dosage corresponding to 2 capsules of Viazen Energy.
Non-medicinal ingredients
Vegetable magnesium stearate, gelatin. Viazen Energy is free from wheat, soya, corn, yeast, peanut, gluten, egg and dairy products. It does not contain preservatives, sweeteners, colouring agents, artificial flavours and is exempt of GMO.
Presentation: 60 capsules
Recommended use
Viazen Energy will be taken on a regular basis at the daily dosage of 1 capsule 2 times a day with food, during one month. The benefits will start to be observed the first days of use, but the optimal results will appear after two weeks.
Viazen Energy is recommended during demanding periods of life: season changing, overwork, intensive sport training, convalescence, hypothyroidism, adrenal glands unbalance, repetitive infections, etc.After a one month treatment, it is recommended to make a therapeutic pause of approximately one week, and then repeat the treatment for another month if necessary.
Anticipated results
1) Relief of physical and mental fatigue
2) Better concentration and alertness
3) Relief of depressive condition
4) Well being state
CAUTIONS
– Do not use during pregnancy and breastfeeding period.
– Be aware in presence of hypoglycemic therapy.
– Be aware in presence of auto-immune diseases or if you have any type of acute infection.
– Be aware in presence of a low protein diet.
CONTRAINDICATIONS
Do not use in presence of high blood pressure.
Understanding
What is energy drop?
Energy drop appears following an accumulation of physical and intellectual efforts over several days, several weeks, as well as several months. It occurs when physiological energy request becomes more important than the capacity of the body to produce appropriate energy level. It becomes visible by the presence of many symptoms which is associated with a weak performance in usual daily activities. People affected by an energy drop will realize that they are not any more in full possession of their potential.
What happens exactly?
The organism does not produce enough energy to meet its needs. This phenomenon can be caused by an insufficient energetic and nutritional supply (carbohydrates, lipids, proteins, vitamins and minerals). Specific physiological systems inefficiency can also be implicated. Indeed, thyroid and adrenal glands imbalance will automatically disturb biochemical reactions responsible for energy reserves (glycogen, triglycerides and proteins) degradation, necessary for cellular energy production. Moreover, nervous system will be quickly affected by the lack of glucose, because it is the only energy source used by nervous cells. If this control center "is not well fed", it will have difficulty orchestrating adequately all of the metabolic reactions associated with energy production. At this time, many discomforts will appear.
Clinical symptoms:
– Anxiety
– Concentration disorders
– Convalescence
– Depression
– Dizziness
– Drop of libido
– Febrility
– Headaches
– Indecision
– Irritability
– Lassitude
– Loss of memory
– Melancholy
– Nervousness
– Repetitive infections
– Salt craving
– Short breath
– Slowness
– Stimulant need: coffee, energetic beverages, black chocolate, etc.
– Sugar craving
– Tiredness
– Weak self-esteem
– Weakness
– Worry
References
References
1. Gagnon R. La nutrithérapie. Éditions Amyris. 2008;
3. Harrisson. Principes de médecine interne. 15e édition. Flammarion. 2002.