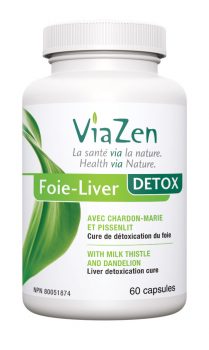 Infos
Understanding
References
Infos
Viazen Liver Detox, a powerful synergy of active medicinal ingredients.
The ingredients' synergy of Viazen Liver-Detox is the key of the effectiveness of this SUPERIOR FORMULA.
Who needs Viazen Liver-Detox?
Viazen Liver-Detox is a natural hepatic cure with added value. The goal of this formula is to insure an optimal detoxification process.
Viazen Liver-Detox Presentation
ACTIVE INGREDIENTS

THERAPEUTIC PROPERTIES

Milk thistle – seed
(Silybum marianum)
extract 30 :1, providing 240 mg of silymarin equivalent to 9000 mg of crude material
300 mg / day*

This plant extract standardized in silymarin is known for its hepatoprotective and hepatoregenarative actions. Silymarin treats liver intoxication, promotes hepatocytes regeneration and improves antioxidant capacity of the liver. In addition, this medicinal herb reduces the cholesterol and blood triglycerides. It also owns anticarcinogenic properties.

Artichoke – leave
(Cynara cardunculus)
extract 12 :1, providing 10 mg de cynarin equivalent to 2400 mg de crude material
200 mg / day*

This plant extract offers a stimulating action on hepatobiliary and urinary functions. It helps the excretion of metabolites issued from detoxification, via the bile and urine.

DL-alpha-lipoic acid
200 mg / day*

This antioxidant provides antioxidant protection in a large variety of physiological conditions. Indeed, the ALA has the advantage of being soluble in water (water soluble) and in fats (fat soluble), allowing neutralization of many types of free radicals.

Dandelion – root
(Taraxacum officinale)
extract 10 :1 equivalent to 1500 mg of crude material
150 mg / day*

This plant extract is also involved in hepatobiliary and urinary regulation. In addition, it has a hepatoprotective effect against a variety of toxic components.

Brocoli sprouts
(Brassica oleracea var.italica)
100 mg / day*

This super food increases the quality of the formula by its content in indoles and isothiocynates. These bioactive molecules possess anticancer properties. They metabolize carcinogenic substances in molecules most polar (water soluble), and make them easier to be excreted without causing cell damage.

Choline
bitartrate
41,32 mg / day*

This lipotropic factor helps to control hepatocytes activities, and in addition participates in the management of blood lipid molecules.

Elemental Zinc
providing from gluconate
14,4 mg / day*

This trace element has an important function, since it is a cofactor for more than 100 different enzymes necessary to metabolism regulation. It contributes to the maintenance of the integrity of cell membranes, and it allows activation of cytosol SOD.
* Daily dosage corresponding to 2 capsules of Viazen Foie-Detox.
Non-medicinal ingredients
Microcrystalline cellulose, vegetable magnesium stearate, gelatine. Viazen Foie-Detox is free of wheat, soya, corn, yeast, peanut, gluten, egg and dairy products. It does not contain preservatives, sweeteners, colouring agents, artificial flavours and is exempt of GMO.
Presentation : 60 capsules
Recommended use
Viazen Foie-Detox will be taken as a cure, to support liver functions. The dosage is 2 capsules daily with food, for a minimum period of three consecutive weeks. The benefits will begin to be felt after a few days of use, but the optimal results will appear after three weeks of treatment. Ingest Viazen Foie-Detox a few hours before or after taking other medication.
Anticipated results
1) Better lipids digestion
2) Elimination of heaviness digestion
3) Better intestinal motility
4) Hepato-regenerator
6) Better bile production and secretion
7) Normalization of hepatic enzymes
8) Normalization of blood cholesterol
9) Normalization of blood triglycerides
10) Improvement of liver detoxification process
11) Reduction of oxidative stress
12) Slowing down of aging process
13) Disappearance of discomfort in liver area (cramping, heaviness, pain)
14) Better glycemic balance
15) Improvement of renal function
16) Increase of vital energy
17) Anticancer protection
CAUTIONS
Consult a health care practitioner if symptoms persist or worsen and prior to use if you are pregnant or breastfeeding.
Consult a health care practitioner if you have gallstones, liver or gallbladder diseases.
Consult a health care practitioner if you have an intestinal obstruction.
Consult a health care practitioner if you have diabetes or if you are taking blood thinners.
CONTRAINDICATIONS:
Do not use if you are allergic to the Asteraceae family plants.
Do not use if you have a bile duct obstruction.
Hypersensitivity, such as allergy, has been known to occur; in which case, stop the use.
Understanding
What is liver intoxication?
Liver intoxication occurs when the body, and more specifically the liver, is unable to effectively transform undesirable substances, so that they cannot be eliminated from the body.
The concept linking the disease with toxins accumulation exists since Antiquity. Historically, a perfect healthy body is rid of harmful substances impairing its optimal functioning. For this purpose, all societies have developed therapies for «cleansing» and detoxification, to regain health. These include:
– Saunas (dry, wet, infrared);
– Enemas;
– Hydrotherapy;
– Carrot and grape juice cures;
– Olive oil and lemon juice cures;
– Wheat grass juice cures.
The predisposition to liver poisoning and toxic loading resulting is very high at the beginning of the 21st century, because the human body is constantly exposed to a multitude of potentially toxic substances. These include:
Exotoxines (xenobiotique), or chemicals from the environment, which include pesticides (insecticides, herbicides), industrial products and their derivatives (solvents and detergents), heavy metals (mercury, lead, cadmium, aluminum, etc.), plastics (phthalates), insulating materials (asbestos), synthetic drugs, food additives, cosmetics, alcohol, etc.
Endotoxins that come mostly from our own metabolic processes (ex: hormones breakdown, lactic acid production, etc.), but they are also derived from the metabolism of the colonic bacterial flora.
Clinical symptoms of liver intoxication:
The development of toxic load is often subtle, and therefore unbeknownst to us, because the discomforts that appear at the beginning are not enough significant to drastically impair daily activities. Clinical signs below are alarm signals:
. Bad breath
. Bitter and doughy mouth
. Blood glucose disorders
. Complexion blurred
. Constipation
. Dark circles under the eyes
. Feeling of heaviness after eating
. Headache and migraines
. Hepatic failure
. Hepatic steatosis
. Hypercholesterolemia
. Hypertriglyceridemia
. Joint pain (gout)
. Lack of appetite in the morning
. Nausea
. Nightly awakenings
. Skin problems (acne, eczema, dermatitis)
. Tiredness
. Trouble digesting fatty foods
. White and loaded tongue
How is realized the liver detoxification ?
The lipid solubility of the majority of xenobiotics allows them to be absorbed easily, penetrate fat cells and to get accumulated.
The objective of the liver detoxification is to transform these lipophilic toxic substances into soluble compounds (water soluble), so that they are easily disposed off SAFELY by urinary tract and bile.
This process involves multiple biotransformation enzymes, found in liver cells. The phase I, also called the stage of FUNCTIONALIZATION, uses oxygen to form intermediate compounds, highly reactive, and potentially dangerous. Then comes the phase II, named the CONJUGAISON, which allows neutralization of active compounds, making them harmless, so they are then excreted.
References
References
Azneimittelforschung, 2000 ; 50 :260-265.
Buchman AL et al. Choline deficiency causes reversible hepatic abnormalities in patients receiving parenteral nutrition: proof of a human choline requirement: a placebo-controlled trial. JPEN J Parenter Enteral Nutr. 2001 Sep-Oct;25(5):260-8.
H. Fallah Huseini et al. The efficacy of Silybum marianum (L.) Gaertn. (silymarin) in the treatment of type II diabetes: a randomized, double-blind, placebo-controlled, clinical trial. Phytotherapy Research. Volume 20, Issue 12, pages 1036–1039, December 2006.
http://fr.wikipedia.org/wiki/Superoxyde_dismutase
Murashima M et al. Phase 1 study of multiple biomarkers for metabolism and oxidative stress after one-week intake of broccoli sprouts. 2004;22(1-4):271-5.
Notes de cours : Pathologie Dynamique. IRRSN. Roseline Gagnon. 2006.
Rooney JP. The role of thiols, dithiols, nutritional factors and interacting ligands in the toxicology of mercury. Toxicology. 2007 May 20;234(3):145-56. Epub 2007 Mar 1.
Zembron-Lacny A et al. The comparison of antioxidant and hematological properties of N-acetylcysteine and alpha-lipoic acid in physically active males. Physiol Res. 2009;58(6):855-61. Epub 2008 Dec 17.