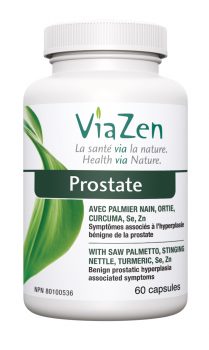 Info
Understanting
References
Info
ViaZen Prostate, a powerful synergy of 9 medicinal ingredients
The ingredients' synergy of ViaZen Prostate is the key of the effectiveness of this SUPERIOR FORMULA
Who needs ViaZen Prostate?
This product has been specially developed to support the symptoms of benign prostatic hyperplasia (BPH) or prostate adenoma, which is more and more common with age, especially after 50 years old.
Viazen Prostate presentation
MEDICINAL INGREDIENTS

THERAPEUTIC PROPERTIES

Saw palmetto (Fruit) (Serenoa repens)

Extract 12 :1

 

Saw palmetto fruit provides polysaccharides, fixed oils, volatile oils, steroids including b-sitosterol. Saw palmetto reduces symptoms of benign prostatic hyperplasia by inhibiting the binding of dihydrotestosterone to androgen receptors and by inhibiting the conversion of testosterone to dihydrotestosterone by 5-a-reductase, a substance believed to be involved in the development of benign prostatic hyperplasia.

It also has an anti-inflammatory effect.

Stinging nettle (Root) (Urtica dioica)

Extract 10 :1

 

Blumenthal et al, Commission E, the World Health Organization and ESCOP recognize the use of nettle root for relieving urinary discomforts associated with the early stages of BPH.

 

Small-flower willowherb (Flower) (Epilobium parviflorum)

Extract 10 :1

 

Since the late 1970s and early 1980s, the medicinal use of aerial parts of Small-flowered willowherb has become very popular in folk medicine in several European countries for the treatment of benign prostatic hyperplasia as well as prostate, bladder, and kidney disorders.

These terpenes, flavonoids, tannins and phytosterols that are responsible for the medicinal properties of this plant.

Green tea (Leaf) (Camellia sinensis)

Extract 10 :1

 

Green tea is classically consumed as a beverage for its beneficial effects.

Their antioxidant properties ensure a reduction in cell damage caused by free radicals.

Turmeric (Root) (Curcuma longa)

Extract 20:1

 

Curcuminoids are responsible for the anti-inflammatory action of turmeric.

Curcuminoids also offer an antioxidant and protective effect to cellular components, by scavenging free radicals.

Cranberry (Fruit) (Vaccinium macrocarpon)

Extract 50:1

Cranberry extract contains several families of phytonutrients (resveratrol, flavonoids) which give it significant antioxidant activity.

In addition to their antioxidant properties, proanthocyanidins are thought to be able to bind to certain bacteria, including Escherichia coli, responsible for cystitis and prevent them from adhering to bladder cells and causing infection.

This medicinal property is very important in the presence of BPH because reduced urine flow and difficulty in completely emptying the bladder can provide a favorable environment for the proliferation of bacteria and the development of bladder infections caused by the presence of stagnant urine.

Broccoli (Herb top) (Brassica oleracea italica)

The flowering tops of broccoli enrich the formula with the presence of lutein and zeaxanthin, two important antioxidants from the carotenoid family.

Selenium (Selenomethionine)

Selenium provides an antioxidant effect, as it acts as a cofactor for the activation of the enzyme glutathione peroxidase.

Zinc (Zinc citrate)

There is a high level of zinc in the prostate. Within the prostate, it acts as an inhibitory cofactor of the 5-alpha reductase enzyme, thereby preventing the synthesis of the dihydrotestosterone hormone, responsible for the development of BPH. In addition, it contributes to the healing of tissues damaged by inflammation
Black pepper extract
Black pepper extract, added as a non-medicinal ingredients, helps improve absorption of curcumin.
Non-medicinal ingredients
Microcrystalline cellulose, vegetable magnesium stearate, gelatine (bovine origin)
ViaZen Prostate is free from wheat, soya, corn, yeast, peanuts, gluten, egg and dairy products. It does not contain preservatives, sweeteners, colouring agents, artificial flavours and is exempt of GMO.
Presentation: 60 capsules
Recommended use
Used in Herbal Medicine to help reduce difficult urination, relieve urologic symptoms (weak urine flow, incomplete voiding, frequent daytime/nighttime urination) associated with the early stage of benign prostatic hyperplasia (BHP).
Warnings
Consult a health care practitioner if symptoms persist or worsen, if you have a liver disorder or an iron deficiency, in case of bile duct obstruction, gallstones, stomach ulcers or excess stomach acid.
Consult a health care practitioner prior to use to exclude the diagnosis of prostate cancer, if you are taking blood thinners, if you have a history of non-melanoma skin cancer or kidney stones.
Stop using and consult a health care practitioner if you develop symptoms of liver trouble as yellowing of the skin and/or eyes (Jaundice), stomach pain, dark urine, sweating, nausea, unusual tiredness and/or loss of appetite.
Known adverse reactions
Rare and unpredictable cases of liver injury associated with green tea extract-containing products have been reported.
Anticipated results
Urologic symptoms associated with mild to moderate benign prostatic hyperplasia (BPH).
Improve the quality of life.
Source of vitamins and minerals.
Helps to prevent zinc and selenium deficiency.
Source of antioxidants that helps protect cells against cell damage caused by free radicals.
Helps regulate the immune system.
Understanting
Understanding disorders related to benign prostatic hyperplasia (or hypertrophy) (BPH)
BPH precise cause is unknown, but is probably related to hormonal variations, including variations in testosterone and, in more particularly, dihydrotestosterone. ViaZen Prostate ingredients work synergistically, first by helping to reduce difficulty in urination and relieve the associated urological symptoms. In addition, it ensures an optimal supply of nutrients (vitamins, minerals), and antioxidants. It will be used in the presence of one or more of the clinical manifestations listed below in the following table.
Clinical symptoms of benign prostatic hyperplasia (BPH)
Need to urinate becoming more urgent
Need to urinate more frequently
Low amount of urine
Difficulty starting to pass urine
Decreased volume and strength of urine flow
Pelvic pain
Urination feels incomplete
Need to urinate at night
Involuntary urine loss
Intermittent and weak flow of urine
Dripping of urine appearing after urination
References
References
Blumenthal M, Goldberg A, Brinckmann J (Ed) 2000, Expanded Commission E Monographs, American Botanical Council, published in collaboration with Integrative Medicine Communications, USA.
Coulson, et al., 2013, A phase II randomized double-blind placebo-controlled clinical trial investigating the efficacy and safety of prostate EZE max:
A herbal medicine preparation for the management of symptoms of benign prostatic hypertrophy, Complementary Therapies in Medicine, 21, pages 172-179.
European Medicine Agency (Committee on Herbal Medicinal Products), 2015, Assessment report on Epilobium angustifolium L. and/or Epilobium parviflorum Schreb., herba.
Fahim et al., 1993, Zinc arginine, a 5 alpha-reductase inhibitor, reduces rat ventral prostate weight and DNA without affecting testicular function, Andrologia, 31 Oct, 25(6), pages 369-375. Gagnon R., 2008
La Nutrithérapie. Collection Douce Alternative, Amyris.
Haojie et al., 2004, A Prospective Study of Plasma Selenium Levels and Prostate Cancer Risk, Natl Cancer Inst, May 5;96(9), pages 696-703.
Kincses, et al., 2017, Antioxidant and antimicrobial activity of herbal teas. Reniew on Agriculture and rural Development, Vol. 6(1-2), pages 92-96.
Leake et al.,1984, The Effect of Zinc on the 5 Alpha-Reduction of Testosterone by the Hyperplastic Human Prostate Gland, Steroid Biochem., vol. 20, n° 2, pages 651-5.
Lopatkin, et al., 2005, Long-term Efficacy and Safety of a Combination of Sabal and Urtica Extract for Lower Urinary Tract Symptoms–A Placebo-Controlled, Double-Blind, Multicenter Trial, World J Urol, Jun;23(2), pages 139-46.
Health Canada, NHPD Monographs: Saw palmetto, September 25, 2018 / Turmeric, July 31, 2018 / Multi-Vitamin/Mineral supplement, September 25, 2018 / Green tea, August 28, 2018 / Antioxidants, august 1st, 2017 / Cranberry, December 18, 2018 / Stinging nettle, June 3, 2019.
Natural Medicines: www.naturalmedicines.therapeuticresearch.com/databases/ Nutranews: www.nutranews.org
World Health Organisation. 2002, WHO Monographs on selected medicinal plants, vol. 2, Switzerland. Passeport Santé : www.passeportsante.net Picaud C., 2017, Oligo-éléments : excès, carences et conseil officinal
Thèse pour le diplôme d'État de docteur en Pharmacie, Université de Limoges Faculté de Pharmacie. Canadian cancer society: www.cancer.ca/fr-ca/cancer-information/cancer-type/prostate/prostate-cancer/benign-prostatic-hyperplasia/